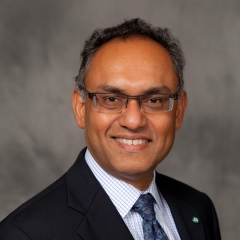 Sanjay Gupta
Associate Dean for MBA and Professional Master's Programs - Dean's Office
Russell E. Palmer Endowed Professor in Accounting - Accounting and Information Systems
Office: N520 North Business College Complex
Telephone: 517-432-6488
Email: gupta@broad.msu.edu
---
Sanjay Gupta is the Associate Dean for MBA and Professional Master's Programs and the Russell E. Palmer Endowed Professor of Accounting in the Eli Broad College of Business at Michigan State University. Prior to returning to MSU in 2007, he held several positions in the W. P. Carey School of Business at Arizona State University, including the first Henry & Horne Professorship in Accountancy, Dean's Council of 100 Distinguished Scholar, and Faculty Director of the Master of Accountancy & Information Systems and the Masters of Taxation programs. He has been recognized by the Broad College's Executive MBA Class of 2010 with the Faculty Excellence Award, and the Arizona Society of CPAs with the Accounting Education Innovation Award and the Outstanding Educator Award. He was chosen by MSU for the Committee on Institutional Cooperation's (CIC) Academic Leaders Program and the CIC's Department Executive Officers' Seminar.

Professor Gupta's research focuses on corporate and individual tax policy issues. He has written extensively on corporate tax burdens, corporate responses to changes in tax incentives, and the interaction of taxes and financial reporting. He has published in leading tax and accounting journals including the National Tax Journal, the Journal of the American Taxation Association, The Accounting Review, the Journal of Accounting and Economics, the Journal of Law and Economics, and Tax Notes. His research on the political economy of corporate taxation and state corporate tax issues has been cited in the media, court cases, and at public policy forums. Based on downloads and citations of his research, he ranks in the top two percent of all authors in the Social Science Research Network (SSRN). He is currently an expert witness for a state department of revenue.

Professor Gupta has consulted for the Big 4 public accounting firms, the U.S. Government (Bureau of Economic Affairs; Internal Revenue Service), international consulting firms (Charles River Associates; Equity Methods), and Fortune 500 companies (Motorola; Sempra Energy). He serves on the University of Notre Dame Accounting Advisory Board, the MSU-CIBER Advisory Board, and has served on the AACSB Accreditation Review Teams for various business schools. Professor Gupta received his Ph.D. from Michigan State University, a Masters of Accountancy from Bowling Green State University, a Bachelor of Laws from Calcutta University in India and a Bachelor of Commerce from University of Mumbai. He holds non-practicing certifications as a CPA and member of the Institute of Company Secretaries of India.

Corporate and individual taxpayer policy issues; State and local taxation; Financial reporting of taxation; Political economy effects of taxation.
Articles:
Ming-Chin Chen and Sanjay Gupta (2011). "An empirical investigation of the effect of imputation credits on remittance of overseas dividends," Journal of Contemporary Accounting & Economics 7(1), June, pp. 18-30.
Sanjay Gupta, Yuhchang Hwang and Andrew Schmidt (2011). "Structural change in the research and experimentation tax credit: Success or failure?" National Tax Journal 64(2), June, pp. 285-322.
Mei Feng, Jeff Gramlich, Sanjay Gupta (2009). "Special Purpose Entities: Empirical Evidence on Determinants and Earnings Management," The Accounting Review 84(6), November, pp. 1833-1876.
Sanjay Gupta, Jared Moore, Jeffrey Gramlich, Mary Ann Hofmann (2009). "Empirical evidence on the revenue effects of state corporate income tax policies," National Tax Journal 62(2), June, pp. 237-267.
Sanjay Gupta and Lillian Mills (2003). "How Do Differences in State Corporate Income Tax Systems Affect Compliance Cost Burdens?" National Tax Journal 56(2), June, pp. 355-371.
Sanjay Gupta and Charles Swenson (2003). "Rent-Seeking by Agents of the Firm," Journal of Law & Economics 46, pp. 253-268.
Sanjay Gupta and Mary Ann Hofmann (2003). "The Effect of State Income Tax Apportionment and Tax Incentives on New Capital Expenditures," Journal of the American Taxation Association 25, Supplement, pp. 1-25.
Books:
Charles Swenson, Sanjay Gupta, John Karayan & Joe Neff. (2003). State and Local Taxation: Principles and Planning. Boca Raton, FL: J. Ross Publications.