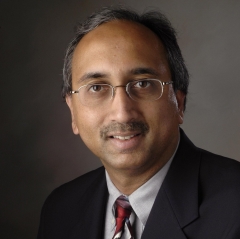 Vallabh Sambamurthy
Chair, Department of Accounting and Information Systems - Accounting and Information Systems
Eli Broad Professor - Accounting and Information Systems
Office: N207 Business College Complex
Telephone: 517-432-2916
Email: sambamurthy@broad.msu.edu
---
Vallabh Sambamurthy (Ph.D., University of Minnesota, 1989) is the Eli Broad Professor and Chair of the Department of Accounting and Information Systems at the Eli Broad College of Business at Michigan State University. He has previously served at the business schools at The University of Maryland and The Florida State University. He is a leading global expert on how firms leverage information technologies in digital innovation and competitive strategies. His work has been funded by the National Science Foundation, Financial Executives Research Foundation, and the Advanced Practices Council (APC). He has published his research in top journals such as the Management Science, Information Systems Research, MIS Quarterly, Organization Science, and the IEEE Transactions on Engineering Management.

He has served on the editorial boards of numerous journals, including MIS Quarterly, Information Systems Research, IEEE Transactions on Engineering Management, and Management. He served as the Editor-in-Chief of Information Systems Research for a six year period during 2005-10. In recognition of the impacts of his scholarly work and teaching he was selected as Distinguished Fellow of the Information Systems Society at INFORMS (2011), Fellow of the Association of Information Systems (2009), and the Distinguished Alumnus of the National Institute of Technology (Tiruchirapalli, India). He has also been awarded the John D. and Dortha J. Withrow Endowed Teacher Scholar Award by the Broad College and the Excellence in Research awards by the Accounting and Information Systems Department.

Sambamurthy teaches courses related to the alignment of technology and business strategies in the Full Time MBA program. He has been actively involved in executive education on current topics such as the shaping of digital business transformations, strategic alignment of IT, and the management of IT innovation in firms. He has worked as a researcher or a consultant with several Fortune 500 firms including AstraZenneca, 3M, General Dynamics, Owens Corning, Intel, Bell Atlantic, Freddie Mac, and BellSouth. His recently co-authored book, titled, Guiding the Digital Business Transformations: An Executive Agenda, provides actionable frameworks for achieving competitive advantage from information technologies. He is actively engaged with business executives and academics in China, Taiwan, Singapore, India, and Hong Kong in research, teaching, consulting, and executive education activities.
Digital transformations, digital supply chain management, strategic management, project management, information technology management
Books:
V. Sambamurthy and Robert W. Zmud, Guiding the Digital Business Transformations: An Executive Agenda, Legerity Digital Press, 2012.
Faisal Hoque, V. Sambamurthy, Robert W. Zmud, Tom Trainer, and Carl Wilson, Winning the 3-Legged Race: When Business and Technology Run Together, Prentice Hall, 2006.
MBA 823: Information Technology Strategies