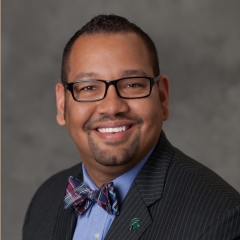 Jeremy D. Davis
Associate Director
Department: Executive MBA Program
Office: 3535 Forest Road, Suite A180
Telephone: 517-355-7603
Email: davisj@broad.msu.edu
---
---
Jeremy Davis is the Associate Director for the Broad Weekend MBA. His duties will be shared between the East Lansing and Troy campus and will include admissions and marketing.

Jeremy has a strong background in marketing, admissions and student support from various institutes of higher education. Before joining MSU, he was the Assistant Campus Director of Admissions for a proprietary medical education school where he was in charge of driving admissions to achieve enrollment goals. Prior to that he held various roles in educational sales working in publishing and healthcare. He has also served as an adjunct professor for Madonna University and Rochester College - teaching classes in their respective business programs.

Jeremy earned his Master of Arts in Education from MSU's College of Education with a specialization in Technology and Learning. He earned his Bachelor of Business Administration in Marketing from Davenport University.

Jeremy currently resides in Charlotte, MI with his wife Shawnae and their 3 children - Easton, Micah and Calla.