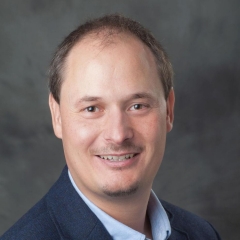 Andreas Hoffrichter
Burkhardt Professor in Railway Management, Executive Director
Department: Center For Railway Research and Education
Office: Henry Center, Room C31
Telephone: 517-353-4452
Email: andreash@broad.msu.edu
---
---
Dr. Andreas Hoffrichter is the Burkhardt Professor in Railway Management and the Executive Director of the Center for Railway Research and Education in the Broad College of Business at Michigan State University. Andreas studied Transport Management at Aston University, England, and completed the course with a first class, Bachelor of Science, honours degree. He has a master degree in Railway Systems Engineering and Integration from the University of Birmingham, England. In his doctoral research at Birmingham, he investigated the suitability of hydrogen as an energy carrier for railway traction, which led to the development of a narrow-gauge prototype hydrogen-hybrid locomotive; the first practical hydrogen-powered railway vehicle in the United Kingdom. He won the prize for the best PhD in the School of Electronic, Electrical and Computer Engineering in 2013. After completion of his PhD, he was employed as a Teaching and Research Fellow in the Birmingham Centre for Railway Research and Education at the university, where he taught on the railway master courses and developed new modules, including weeklong blocks in railway traction and railway business management for a new master program. In 2014, Andreas moved to the WMG within the University of Warwick, England, were he led the research activity related to drive systems for railway vehicles, including energy storage hybrids and hydrogen fuel cell systems. His research concentrated on railway traction, conceptual drive-system development, and subsequent vehicle performance evaluation. In spring 2016, he joined Michigan State University to lead the railway research and education activities. Andreas has published several journal papers and presented at numerous international conferences.
Railway Systems
Railroads
Railway Motive Power & Traction
Railway Transportation
Best PhD Prize 2013: Best PhD in 2013, School of Electronic, Electrical and Computer Engineering, The University of Birmingham, England
Richard Herbert Innes Prize 2016: Awarded by the Institution of Mechanical Engineers for the best paper on Locomotive Engineering produced by Young Members and published in the Journal of Rail and Rapid Transit.
Articles:
Hoffrichter, A., Miller, A., R., Hillmansen, S., & Roberts, C. (2012). Well-to-Wheel Analysis for Electric, Diesel and Hydrogen Traction for Railways. Transportation Research Part D: Transport and Environment, 17(1), 28-34. doi: 10.1016/j.trd.2011.09.002.
Hoffrichter, A., Silmon, J., Iwnicki, S., Hillmansen, S., & Roberts, C. (2012). Rail Freight in 2035 - Traction Energy Analysis for High Performance Freight Trains. Proceedings of the Institution of Mechanical Engineers, Part F: Journal of Rail and Rapid Transit, 226(6), 568-574. doi: 10.1177/0954409712441753
Hoffrichter, A., Silmon, J., Schmid, F., Hillmansen, S., & Roberts, C. (2013). Feasibility of discontinuous electrification on the Great Western Main Line determined by train simulation. Proceedings of the Institution of Mechanical Engineers, Part F: Journal of Rail and Rapid Transit, 227(3), 296-306. doi: 10.1177/0954409712461341
Coombe, D., Fisher, P., Hoffrichter, A., Kent, S., Reed, D., Rowshandel, H., et al. (2014). Development and design of a narrow-gauge hydrogen-hybrid locomotive. Proceedings of the Institution of Mechanical Engineers, Part F: Journal of Rail and Rapid Transit. doi: 10.1177/0954409714532921
Hoffrichter, A., Fisher, P., Tutcher, J., Hillmansen, S., & Roberts, C. (2014). Performance evaluation of the hydrogen-powered prototype locomotive 'Hydrogen Pioneer'. Journal of Power Sources, 250(0), 120-127. doi: 10.1016/j.jpowsour.2013.10.134
Hoffrichter, A., Hillmansen, S., Roberts, C. (2015). Conceptual Propulsion System Design for a Hydrogen-Powered Regional Train. IET Electrical Systems in Transportation. doi: 10.1049/iet-est.2014.0049
Books:
Hoffrichter, A. (2013). Hydrogen as an Energy Carrier for Railway Traction. PhD Thesis. Birmingham: The University of Birmingham. http://etheses.bham.ac.uk/4345/